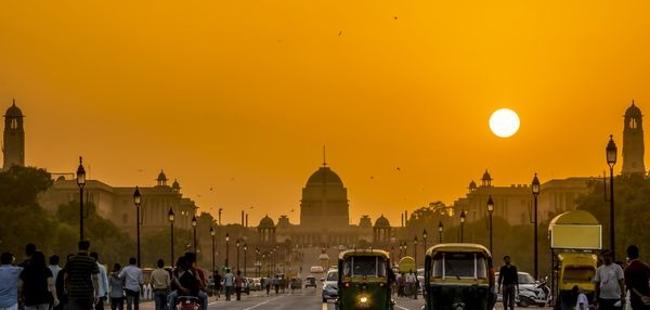 Delhi is a capital city as well as the Union Territory of India. Because of its geostrategic location it has been in the Center of power since centuries. Covering an area of about 1484 square kilometres, this city holds a population of 25 million, thus making it the second most popular city of India after Mumbai. A symbol of the country's rich past and thriving present, Delhi is a city where ancient and modern blend seamlessly together. It is a place that not only touches your pulse but even fastens it to a frenetic speed. Home to millions of dreams, the city takes on unprecedented responsibilities of realizing dreams bringing people closer and inspiring their thoughts. We allows you to Explores the wonders of the city be it its heritage, the art and crafts, the diverse cuisine and culture. With a history that goes back many centuries, Delhi is true epitome of an ancient culture and a rapidly modernizing country. Apart from monuments there is much to discover here. The Centre of many powerful empires in the past its long history can be traced in its many carefully-preserved monuments, ancient forts and tombs.

HISTORY
Delhi has a long and rich history. it was ruled by strong and powerful rulers.
Its history dates back to Mahabharata. it was called as Indraprastha where Pandavas used to reside. Eight more cities came into being in the vicinity of Indraprastha: Lal Kot, Siri, Dinapanah, Quila Rai Pithora, Ferozabad, Jahanpanah, Tughlakabad and Shahjahanabad. First came the Tomars in 736 who named it as Lal Kot. Then, it was conquered by Chauhans in 1180 who weer the kings of Ajmer and renamed it as Qila Rai Pithora. In 1192, Chauhan king Prithviraj III was defected by Muhammad Ghori and Delhi Sultanate. Then came the Lodis who gave way to Babur. Babur led the foundation of Mughal Empire, after the battle of Panipat in 156. Initially, Agra was preferred as the capital of Mughals but later Delhi became its capital when Shah Jahan Built Walls around the city and named it as Shahjahanabad.
In 1803 AD, the city was captured by British. And in the year 1911, British shifted their capital from Calcutta to Delhi. It again became the centre of all governing activities. After independence in 1947, the city was officially declared as the capital city of India.

VISIT DELHI
The City of Delhi has become a symbol of overflowing energy, dynamism and modernity. Modern Delhi encompasses Medieval fortifications, Mughals Mausoleums, dusty bazaars, colonial-era town planning and mega malls. Along with this, one can have a fascinating glimpse into the past in old Delhi, with its labyrinth of narrow lanes, old havelies, and colourful bazaars, Rickshaws wind their way through this crowded, bustling capital of the Mughals, where life continues, much as it did hundreds of years ago. Most popular and frequently visited monuments are as follows:
• Red Fort has many massive gateways such as Lohari Gate, Kashmiri Gate, Kabul Gate, Ajmeri Gate and so on. Once we enter the fort. We'll come across marble palace, arched gateways, magnificent gardens, pillared halls demonstrating the vastness of the fort.
• Jama Masjid is situated in the proximity of the Red Fort. Here, we'll see a blend of both Hindu and Mughal style of architecture and also an extensive use of red sandstone and white marble.
• Humayun's Tomb features garden squares with pathways water channels. Once inside the enclosure, we'll witness several graves of Mughal rulers.
• Qutub Minar Which is the tallest (73m high) brick minaret in the world. Also, we'll have a glimpse of other monuments which are historically connected with Qutub Minar and are part of Qutub complex such as Iron Pillar of Delhi, Quwwat-ul-Islam Mosque, Alai Darwaza, the tomb of Iltutmish, Alai Minar, Ala-ud-din's Madrasa and tomb, and the tomb of Imam Zamin.
• National Museum which showcases 200,000 works of art of both Indian and Foreign origin. Furthermore, we can see the country's modern architecture in the form of lotus temple.
• Raj Ghat Memorial of Mahatma Gandhi (Leader known worldwide for non-violence)

Apart from that, we have worldwide famous educational institute such as Indian Institute of Technology (IIT), Jawahar Lal Nehru University and Delhi University which are located in Delhi. And also many religious places such as temples like Birla Mandir, Akshardham Temple, Gurudwaras for instance Bangla Sahib and mosques such as Jama Masjid and Nizamuddin Dargah are all part of this City.

CLIMATE
The Climate of New Delhi is a humid subtropical climate. Delhi experience a period of long and hot summers which extends from April to October, with monsoon season occurring in the month of July - August. The temperature in summers rises upto 46 degree Celsius. Whereas, there is also a small period of winter which starts from November and end in March. Average temperature in winters remains around 10-12 degree Celsius. The temperature various from 46 degree Celsius (115 degree Fahrenheit) in summers to around 0 degree Celsius (32 degree Fahrenheit) in winters. Climate of Delhi is greatly influenced by its proximity to the Himalayas and the Thar desert, causing it to experience both weather extremes. Summers are long, extending from early April to October, With the monsoon season occurring in the middle of the summer. Winter starts in November and peaks in January. The annual mean temperature is around 25 degree Celsius (77 degree Fahrenheit); monthly daily mean temperatures range from approximately 14 to 34 degree Celsius (57 to 93 degree Fahrenheit)

HOW TO REACH DELHI
Indra Gandhi National Airport is the main entry point to the city for International Tourists. The revamped airport, now terminal 3, provides visitors with their first experience of a modern, world-class city which is keeping pace with the best in the world. Terminal 3, from where international and many domestic carries operate, has facilities which are on par with the world's most modern airports.

WHAT TO DO IN DELHI
• Visit the world heritage sits such as Red Fort, Humayun's Tomb, Jama Masjid and get immersed in the glory Mughal Empire
• Enjoy Qawwalis sung at Dargah of Nizamuddin
• Explore the different markets of Delhi wherein we can taste the variety of foods
• Visit of Akshardham Temple and Foundation show will leave you spellbound
Loading...